Board of Commissioners
The Board of County Commissioners is the policy making and legislative body of this County. It is the County government's taxing, budgeting, appropriating and purchasing authority and holds title to County property. The Board is also responsible for hearing and ruling on annexations, approving drainage improvements through the petition ditch process, and making improvements and providing for solid waste disposal.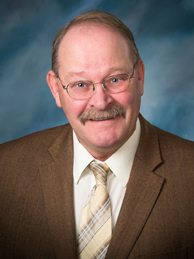 Mick Pocratsky
Mick Pocratsky was elected Commissioner for the term commencing January 2, 2017. Mr. Pocratsky graduated from Hicksville High School and also Defiance College with a degree in Criminal Justice. Prior to becoming Commissioner, Mick worked for Defiance County Juvenile Probation for 27 years, serving as Chief for five years. He also served on the Hicksville Village Council for 20 years, holding the President's seat for two years, and also served on the Parks Board for six years. Mick and his wife, Pam, are members of Cornerstone Church and reside in Hicksville. They have two adult children, Matthew and Toni. They have one grandson and two granddaughters.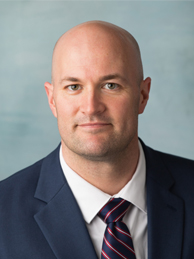 David S. Kern
David S. Kern was elected Commissioner for the term commencing January 3rd, 2021. David is a Defiance native and a 2001 graduate of Ayersville High School. After high school, he attended NSCC where he studied Business Administration, Accounting, and Economics, which led to a career in Business operations and consulting. With a passion for public service, David has held numerous positions throughout his career in hopes of bettering his community for the next generation. He recently served on the Ayersville Local Board of Education for 5 years and is currently a Lieutenant with South Richland Fire Department and President of the Ayersville Education Foundation. David enjoys spending his time with his wife Melissa and 4 children Kaiden, Veylee, Lucas, and Ezra.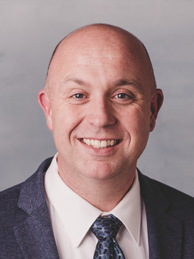 Dana Phipps
Dana Phipps was elected Commissioner for the term commencing March 8, 2022. Mr. Phipps graduated from Ayersville High School in 1993. After that, he attended Defiance College, majoring in Criminal Justice. Dana has spent most of his adult life working in public service. He was a firefighter/EMT for the Highland Township Fire Department for 10 years, rising to the rank of captain. He joined the Defiance County Sheriff's Office in 2001 as an Associate Deputy until 2006, when he was hired as a Road Patrol/DARE Officer until 2022. Born and raised in Defiance County, Dana values his time with his wife, Kim, and their two children, Dillon and Brookelyn.
---
The Board of Commissioners has direct oversight of several departments including:
Building and Grounds/Facilities – Maintenance

Courthouse
Courthouse Annex
Commissioner's Annex
Defiance County East
Evergreen Lane Office Complex
Key Bank
Sheriff / 911
Sarah's House
EMA Building
Senior Centers in both Hicksville and Defiance

Child Support Enforcement Agency
Dog Warden
Environmental and Administrative Services
Family & Children First/Help Me Grow
Job & Family Services
Landfill
Public Safety Services
Records Center
Senior Services
Wastewater Operations
---
Sessions & Meetings
Regular Sessions
Regular Sessions are held every Monday and Thursday.
Special Sessions
Special Sessions may be held on Sunday, Tuesday, Wednesday, Friday or Saturday as needed.
Meetings
Meetings are conducted in the Commissioners' Conference Room located at 500 Court Street, Suite A, Defiance, Ohio. If a meeting is to be held in a different location, it will be specified on the posted agenda.
The Board of County Commissioners will attempt to provide reasonable accommodations for any disabled person. Requests for special accommodations shall be made to the Office of the County Commissioners twenty-four (24) hours prior to the time such accommodations are required.
If a meeting is scheduled with the Commissioners, information on the topic to be discussed must be provided to the Commissioners' Clerk five (5) to seven (7) days prior to the meeting.
The Commissioners appoint department heads for those offices reporting directly to them, and also appoint members to a variety of boards and commissions. Commissioners serve directly on some boards such as the Board of Revision, County Records Commission, and the Planning Commission.
---
Administrator and Finance Manager
Sherry Carnahan
The primary objective of this position, under the general direction of the Board of County Commissioners, is to oversee the general operations of Defiance County to include implementing the policies of the Board of County Commissioners. Duties include assisting the Board in preparing, administering, and monitoring operational appropriations budget; organizing and directing overall activities of departments under the jurisdiction of the Board of Commissioners; establishing and monitoring policies, practices and programs; and serve as an official County representative to provide information and act as a liaison between the Board of Commissioners, elected officials, department heads, employees and the public.
Sherry has worked for Defiance County since 1994. She worked two years for the Environmental Services Office and began working in the Commissioner's Office in 1996 as the Fiscal Deputy Clerk. In May of 2013 she was promoted to the Finance Manager/Administrator's position. She is a graduate of Northwest State Community College. She resided in Ayersville with her husband Keith and they have two children, Shawn (Taylor) and Lizzy (Scott), and two grandsons, Auden and Benson.