SARAH's House and Victim Services
We are here, because we care.
We are dedicated to serving victims of crime through support and intervention. We help victims become whole again and lead normal, healthy, productive lives, thereby breaking the cycle of abuse.
SARAH's House is a comfortable homelike atmosphere where Law Enforcement and Children's Services personnel interview victims of crime and their families. When clients arrive at SARAH's House, a friendly staff greets them. They are knowledgeable in the criminal justice field, and will do everything they can to eliminate any anxiety felt by victims and their families.
At SARAH's House, a skilled team of investigators are called in eliminating the need for multiple interviews.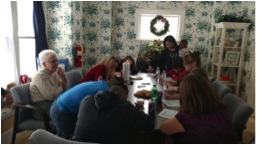 We also provide referrals to necessary social agencies. Sometimes, victims and their families will need assistance from mental health providers, help with financial obligations, legal assistance, and a multitude of other needs. We are here to meet those needs.
Michelle White and Kaisha Hudson are Victim Advocates for Defiance County. Michelle is a Registered Advocate with Senior Standing with the Ohio Advocate Network, which requires years of extensive training and experience working with victims of crimes. Kaisha is gaining the training and experience needed to qualify as a Registered Advocate with OAN. Either Michelle or Kaisha will work with victims from the initial call, throughout the entire criminal justice process.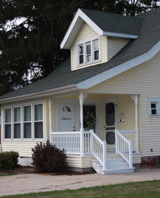 SARAH's House is conveniently located on the corner of East Second Street and Biede Avenue.
SARAH's House
1114 E. Second Street
Defiance, Ohio 43512
(419) 782-0911
Our normal office hours are Monday through Friday, 8:00 AM to 4:30 PM. However, the facility and its staff are on call 24 hours a day, 7 days a week to assist clients.
Victim Rights
Victims Compensation
A victims vompensation fund has been created through the Ohio Attorney General's Office. If you or your family members are innocent victims of a violent crime, financial assistance may be available. We pay for a wide range of expenses such as medical counseling bills, work loss, and funeral expenses. We generally can't pay for property expenses. Apply for Victims Compensation - Ohio Attorney General Dave Yost
Defiance County Victim Services
Defiance County Victim Assistance, under the direction of the Defiance County Prosecuting Attorney, provides support, information, and advocacy for any victim of crime in Defiance County.
All services are free of charge, confidential and provided to all victims, or at the victim's request.
From the moment a crime occurs, and throughout the criminal justice process, Victim Advocates are available to help. A Victim Advocate is a person who will support you and assist you with the court proceedings related to the criminal offense/delinquent act.
Emotional Support
Victim advocates offer emotional support for the victim and or family members. This support may range from a listening ear to accompaniment to law enforcement interviews and court hearings, explanation of court proceedings, transportation, and referrals to other services.
Therapy Dog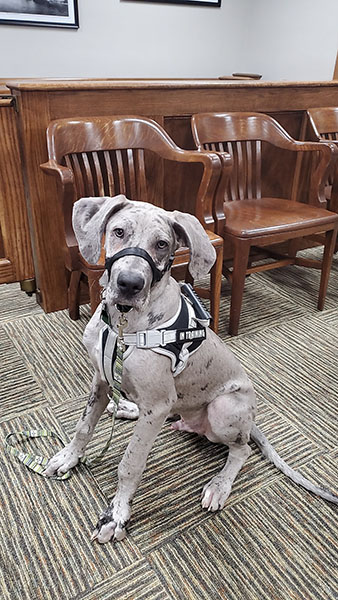 Sampson is our therapy dog in training. He is a Great Dane, donated by Great Dane's of Hickory Hollow. Sampson came to us in December of 2022, and has been settling in nicely. He completed his basic training, moved on to advanced training, which will be followed by Good Citizenship training and Therapy dog certification. He cannot take his therapy dog certification until he turns a year old on October 20, 2023. Sampson loves to meet new people who visit SARAH's House. He tags along with Kaisha to the courthouse a lot, and sometimes sits with survivors, before and during their court hearing.
Referrals
Many crime victims find themselves in need of outside help, but have no idea where to get it. Advocates will provide referrals to public and private service agencies including domestic violence shelters. Defiance County Victims Assistance collaborates with other advocates and agencies throughout the Northwest Ohio area to better meet the needs of victims.
Emergency Assistance
Victim Advocates are available 24 hours a day, 7 days a week for emergency assistance. They are a part of the Northwest Ohio Sexual Assault Response Team (SART), and will accompany victims to be examined by a specially trained Sexual Assault Nurse Examiner (SANE) when needed. Advocates are also available to accompany and support victims through law enforcement interviews. Victims and their families can receive assistance in obtaining emergency food, shelter, clothing, and medical help as needed.
Criminal Justice Information and Advocacy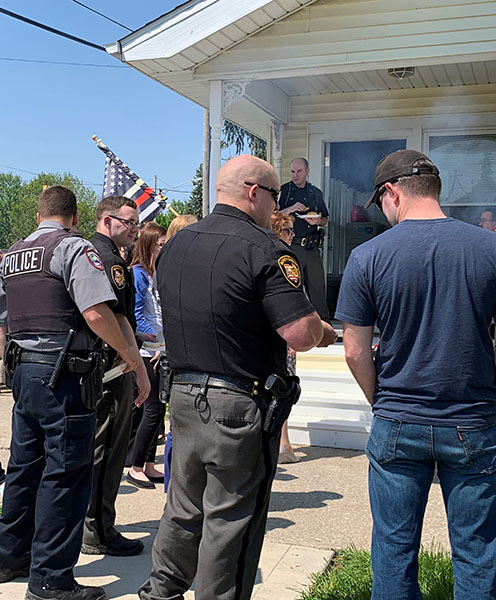 Perhaps the greatest difficulty for many crime victims, in the midst of a traumatic experience, is trying to understand and prepare for involvement in the criminal justice system. Through the Victims Assistance Program, victims receive information on the process and procedures of the criminal justice system. Victims and their families will receive ongoing information on the status of court cases. Advocates provide information and assistance with the preparation of compensation claims. Crime victims can request that a victim advocate accompany them in the courtroom or attend in their place.
If you feel that you or someone you know has been a victim of a crime, please feel free to contact our office.