Cigarette Litter Prevention Program
Keep Defiance County Beautiful Achieves 23% Reduction in Cigarette Litter
Efforts impact the most commonly-littered item in America, cigarette butts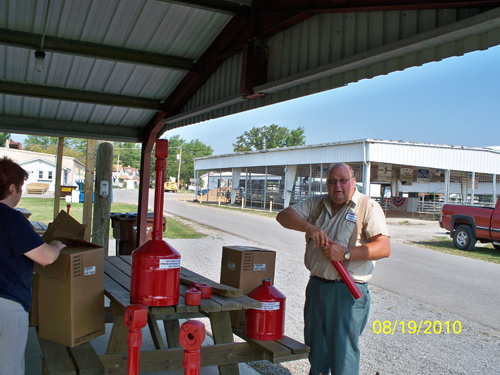 Defiance, Ohio (September 1, 2010) – Results of the Defiance County Cigarette Litter Prevention Program were reported this week following cigarette litter scans on the Defiance County Fair Grounds, as part of the annual Keep America Beautiful® Cigarette Litter Prevention Program. In its first year with the program, Keep Defiance County Beautiful noted a 23% reduction in cigarette butt litter throughout the Defiance County fair grounds transition points.
"The program allows us the opportunity to make drastic improvements in our effort to curb litter. Simple actions like installing ash receptacles and distributing pocket ashtrays have made a big difference in decreasing Defiance County litter and ultimately keeping our community beautiful," said Defiance County Environmental Services KAB project leader, June Crosser. While there is still work to be done, I'm proud to say we have seen significant reductions in cigarette litter at the Defiance County fair grounds."
Cigarette butts are the most-littered item in America, representing nearly 30 percent of all items documented in nationwide clean-up initiatives.
Keep Defiance County Beautiful tested locations at the Defiance County Fair Grounds that includes numerous "transition points" – places where people must stop smoking before proceeding. These points included the Defiance County Commissioners building, Merchants and Fine Arts Building, Grandstand, Horse Stables and Fairview Young Farmers Pavilion. The Defiance County Environmental Services Department first conducted a preliminary scan (a count of littered cigarette butts) before they launched their Cigarette Litter Prevention Program earlier this summer. The launch included public education messaging on the Defiance County Website, noting a cigarette butt not properly disposed of also counts as litter; the distribution of free pocket ashtrays to adult smokers; and the installation of ash receptacles in the program area. After completing a follow up scan (a recount of littered cigarette butts), the research team was able to determine the difference this litter prevention program makes in reducing cigarette butt litter.
A team of Defiance County employees worked together to conduct the necessary research. The team included June Crosser – Environmental Services Assistant Director, Pete Simonis – Public Work Crew Supervisor, Marv Hageman – Public Work Crew Supervisor, Lynn Bishop – Environmental Educational Specialist and Randy Vogel, Defiance County Dog Warden.
Defiance County Environmental Services would also like to thank the Defiance County Commissioners; Thomas Kime, Otto Nicely and James Harris for their support for this program. The Defiance County Fair Board Members: President Dave Martin, Charles Wann and Lavon Wiles for their support, maintenance and recommendation of locations for the ash receptacles. "We're proud to be able to contribute to this great program and do a little bit in our backyard that could go a long way towards protecting the environment," Timothy Houck, Defiance County Environmental Services Director.
National nonprofit Keep America Beautiful has field-tested and expanded the Cigarette Litter Prevention Program for the last six years with support from Philip Morris USA, an Altria company. Nationwide, over 250 communities participated in the program in 2009.
The Keep America Beautiful Cigarette Litter Prevention Program addresses the issue by integrating four proven approaches: encouraging enforcement of litter laws that include cigarette litter; raising awareness about the issue using public service messages; placing ash receptacles at transition points such as entrances to public buildings; and distributing pocket ashtrays to adult smokers. Information about a Cigarette Litter Prevention program can be found in the online "Guide to Cigarette Litter Prevention." The Guide can be accessed through Keep America Beautiful's website www.kab.org or directly at www.preventcigarettelitter.org.