Keep America Beautiful
KAB : A BEAUTIFUL HISTORY
Long before being "green" was fashionable, Keep America Beautiful formed in 1953 when a group of corporate and civic leaders met in New York City to discuss a revolutionary idea — bringing the public and private sectors together to develop and promote a national cleanliness ethic.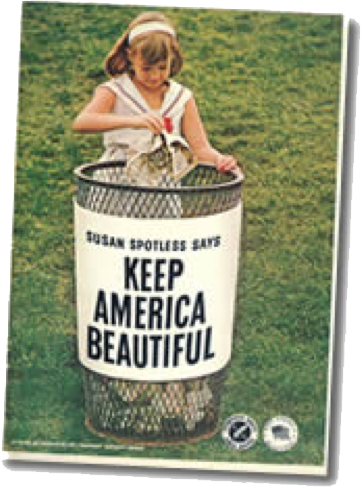 1953
National Advisory Council organizes.
1956
First public service announcement (PSA) on litter prevention appears.
1960
Work begins with the Ad Council for ongoing PSA campaigns.
1965
First Lady Bird Johnson joins Keep America Beautiful in promoting highway beautification program.
1967
Canine TV star Lassie appears as mascot for an anti-litter campaign.
1981
President Reagan endorses the Clean Community System
1984
First Public Lands Day takes place.
1985
Keep America Beautiful and GLAD launch the GLAD Bag-a-Thon program, precursor to the Great American Cleanup™
1986
Take Pride in America program, created to promote wise use of public lands, begins with federal agencies. First Vision for America Award Dinner takes place.
1988
Keep America Beautiful expands its mission to include solid waste education. Solid Waste Committee forms with waste experts from industry and government.
2009
New KAB Program, The Curbside Value Partnership (CVP), is established to increase participation in curbside recycling programs nationwide.
2010
Keep America Beautiful becomes a sponsor of the nation's largest collegiate recycling competition, RecycleMania, and assumes the administrative duties of RecycleMania as well.
2010
KAB also takes the helm of America Recycles Day, a nationally-recognized initiative dedicated to encouraging people to recycle more at home, at work.

Keep America Beautiful "Best of the Best" Recognition
Local Organization Recognized as Among the "Best of the Best" Nationwide
The Defiance County Environmental KAB Affiliate has received the Keep America Beautiful President's Circle Award for Standards of Excellence in 2015.  The President's Circle Award recognizes exemplary performance made by certified affiliates of the national non-profit to reduce litter, minimize waste, and beautify and improve their local communities.
In qualifying for a President's Circle Award, The Defiance County Environmental KAB Affiliate has met Keep America Beautiful standards of excellence by conducting an annual Litter Index, calculating the affiliate's cost/benefit ratio, and engaging volunteers to take greater responsibility for their community environment. In addition, award recipients must conduct activities in Keep America Beautiful three core focus areas of litter prevention, waste reduction, and beautification/community improvement.