2013 Barb Breckler Memorial Maumee River Sweep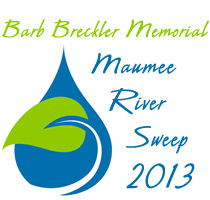 The 30th annual Barb Breckler Maumee River Sweep was held Saturday morning June 15th, 2013 at the Independence Dam State Park Marina. Because of heavy rains, the river was washed out and crews did not go out on it to clean up. Volunteers, instead, cleaned up around the marina.
Tim Houck, event coordinator and Director of Defiance County Environmental Services, reported that co-sponsors of the event were McDonald's-North Restaurant, Kissner's, Defiance County Environmental Services, Coast Guard Power Squadron and the Fort Defiance Boat & Ski Club. The Correction Center of Northwest Ohio' public work's program and the Ohio Department of Natural Resources' Independence Dam State Park provided workers to assist in the litter collection. Kissner's and McDonald's restaurants donated food and drink.
Volunteers gathered at Independence Dam State Park Marina at 7:30 a.m. for breakfast and then broke into groups to pick up debris. A truck load of waste and 26 tires were picked up and hauled to the landfill.
The River is an important part of our community and this event is an important element in both environmental education and litter collection. Many communities rely on the Maumee and Auglaize Rivers as their drinking water source, and the rivers are home to many birds, fish and wildlife that could be adversely affected by litter and debris.
This event is part of the Solid Waste District's Management Plan and is part of the Defiance County Environmental Services (KAB) Keep America Beautiful events.