2014 Barb Breckler Memorial Maumee River Sweep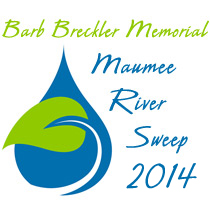 The 'The Barb Breckler Annual Maumee River Shoreline Sweep' was held Saturday June 21, 2014. This is the 31st year for this event. Tim Houck, event coordinator and Director of Defiance County Environmental Services, reports that co-sponsors of the event were McDonald's-North Restaurant, City Beverage, Kissner's, Higbea Embroidery, Defiance County Environmental Services, Independence Dam, the Fort Defiance Boat & Ski Club and the Correction Center of Northwest Ohio' public work's program provided workers to assist in the litter collection.
A beautiful day was enjoyed by all for this yearly event. Over 40 people and 4 boats gathered at Independence Dam State Park Marina at 7:30 a.m. Groups were assigned to do a shoreline pick up from the shore and from boats patrolling close to shore. Groups concentrated on the marina area.
The River is an important part of our community and this event is an important element in both environmental education and litter collection. This is not just a one day event. Throughout the year recreational boaters and visitors to the parks pick up litter. This is an excellent opportunity to help educate the public on the importance of the precious resource that our rivers represent. Participants see first-hand the impact that inappropriate environmental behavior has on the waterways of our area and the natural beauty we are blessed with. Many communities rely on the Maumee and Auglaize Rivers as their drinking water source, and the rivers are home to many birds, fish and wildlife that could be adversely affected by litter and debris.
This event is part of the Solid Waste District's Management Plan and Keep America Beautiful. This year's event collected over 3 tons of debris which was properly disposed into the Defiance county landfill.